How automated invoice processing optimizes your invoice management
Learn more about how automated incoming invoice processing works, find out about advantages, legal requirements, future-proof invoice formats and much more.
Automated invoice processing made easy
The A/P Invoice Whitepaper provides an overview of these topics:
How does the digital invoice receipt process work?
Advantages of electronic invoices compared to paper-based invoices

Which purchase invoice formats can you use to ensure your future-proof operations?

Answers to other common questions about the digital invoicing process
Infiana Germany GmbH & Co. KG relies on EASY for the digitization of its invoice management.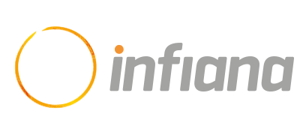 "Such a project is more than just an IT project. Colleagues from accounting, purchasing, logistics and IT are involved. In addition to professional competence, the chemistry must also be right. With the EASY project team, it was clear to us from that this would not be a problem."
Christian Wallon, Finance Director EMEA, Infiana Germany GmbH & Co. KG
Find out how you can avoid stumbling blocks with digital incoming invoice processing and optimize the incoming invoice process in a short time.