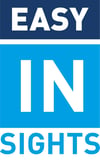 Gain valuable weekly insights from the EASY SOFTWARE product portfolio – from product updates and trends to news and much more. Perfect for people who stay up-to-date and want to know more. Product owners and technical consultants guide you through the webinars – first-hand knowledge transfer is the main focus here.
By submitting the form you register for all future EASY INSIGHTS and always receive updates on the dates and topics.
Please note that only a few EASY INSIGHTS webinars are in English.

Please send your questions, comments and feedback to: insights@easy.de
Register now