Control your contracts
New contracts appear every day. For example in purchasing, sales or service departments. It is difficult to keep an overview because most contracts include important deadlines and a variety of attachments.
Even today, contracts are decentralized, which results in a lack of transparency within the company, deadlines are overlooked and cause high unplanned costs, and contracts are created in different templates, which leads to inconsistencies.
A contract management software solution makes it possible to automate all aspects of the contract lifecycle. This enables you to achieve valuable benefits for your company, such as:
Reduce your operating costs
Optimize the speed and efficiency of the negotiation process
Manage risks and liabilities
Increase your turnover
As a future-oriented company, you should recognize early on that contract lifecycle management as a corporate initiative is already unavoidable today.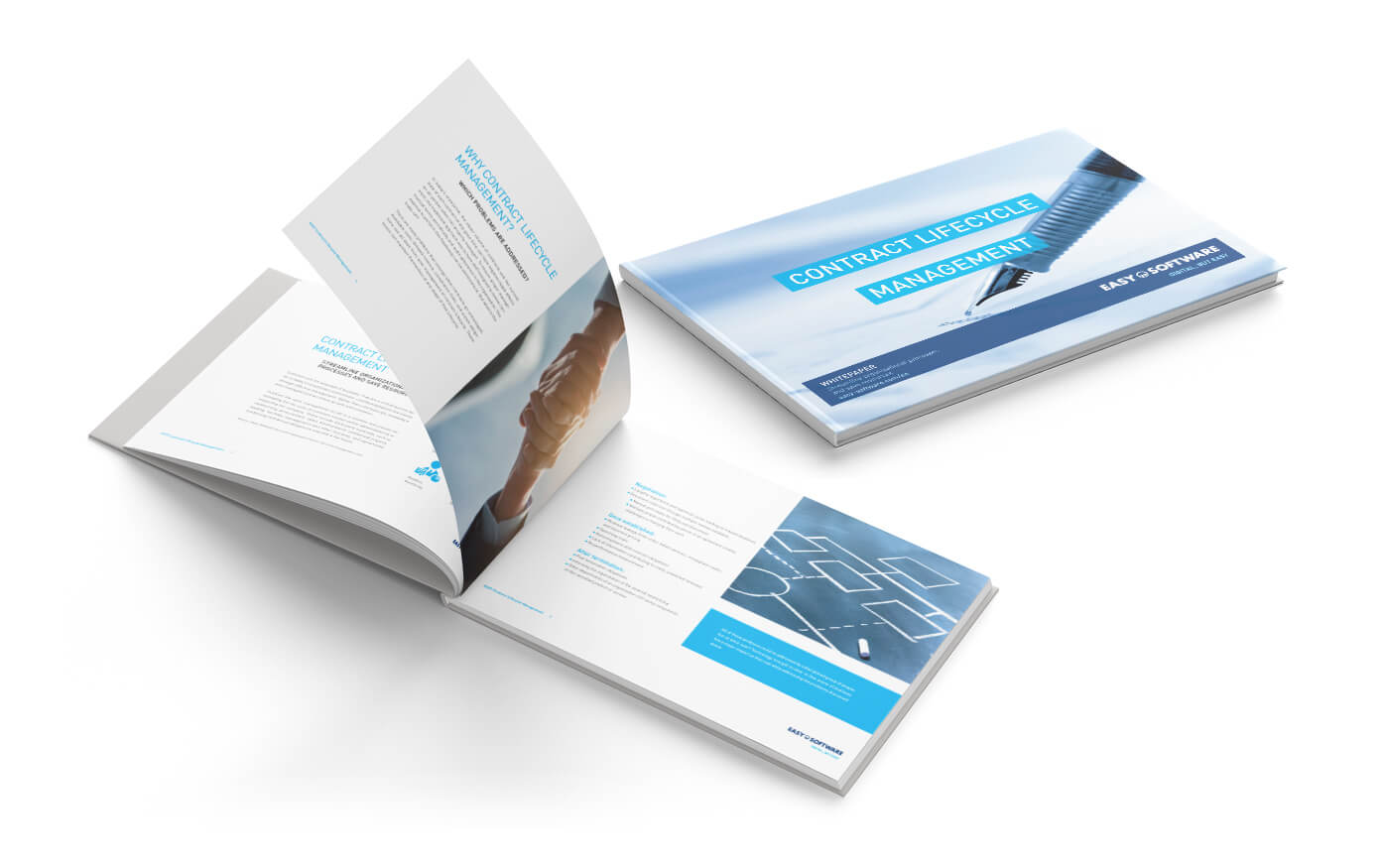 The EASY way to manage your contracts
A software solution supports the entire lifecycle of your contracts – whether it is a service, support or maintenance contract or a rental, cooperation or purchase agreement. All of those contracts include background information such as information of the contracting parties. From contract creation to tracking and compliance, you get a real-time accurate picture of the risks and opportunities your organization faces. This saves valuable time and resources.
Contract monitoring
Contract monitoring is carried out via multi-level deadline management: an escalation mechanism which automatically reminds you of upcoming deadlines. This ensures that critical deadlines are no longer overlooked.
Centralized electronic repository
Ensures that every detail is clear and transparent to all stakeholders. Access and changes to contracts are documented at all times. Integrated version management ensures consistently high quality.
Authorization concept
Authorized representatives of the responsible departments always has access to contracts. This provides clear regulations of responsibilities.
Version management
With the help of an integrated version management, access and changes to contracts are documented at all times.
Intelligent search
Contract management software offers high-powered search options, as well as convenient search and filter functions.
Template management
Template management ensures consistently high quality and accuracy in the creation of contract documents.
Integration
Integrate your contract management solution into your existing system architecture, database structure and workflows using open interfaces.
Individuality
Customize your contract management software according to your needs – such as your processes, language or content.
What to expect in the whitepaper Contract Lifecycle Management
This whitepaper provides recommendations for sales, legal, procurement and finance professionals who want to grow within their businesses.
Learn how the lifecycle of contracts affects your business
Find out why your company should use Contract Lifecycle Management
Experience best practices for Contract Lifecycle Management
What questions should your company ask itself when deciding on a solution?